Conclave Abstracts (2012)
Those who seek mentoring, will rule the great expanse under heaven.
Those who boast that they are greater than others, will fall short.
Those who are willing to learn from others, become greater.
Those who are ego-involved, will be humbled and made small.
~Shu Ching (in Huang & Lynch, 1995, p. xi)
Undergraduate Research Presentation Abstracts
Kappa Omicron Nu Conclave
East Lansing, Michigan – August 9-12, 2012
~Catherine Elizabeth Luedtke, Suzy Weems* and Janelle Walter*, Baylor University
Abstract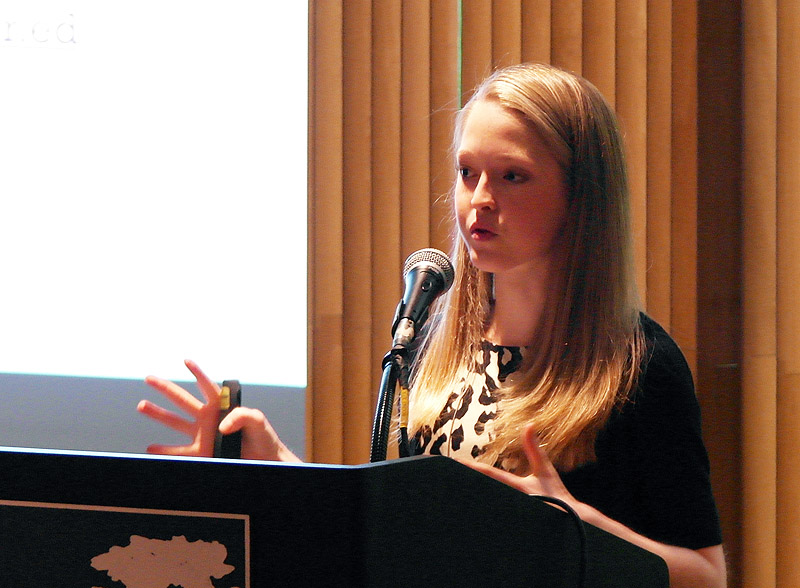 Catherine Luedtke presenting at Conclave (2012)
The purpose of this study was to investigate healthy nutrition options for families living at or slightly above the poverty level. A hypothetical scenario was created and used as a basis for investigating food prices and determining the availability of healthy foods using SNAP allotments. Data were collected from local chain supermarkets. Then, a budget, shopping schedule, and meal plan were developed. A SNAP allotment of $468 per month was calculated for the hypothetical family of four, and our study found that healthful food could be provided for under $440. The results showed that SNAP allotments could indeed provide adequate resources for the purchase of nourishing foods for families on a low income.
Read more: kon.org/urc/v11/luedtke.html
~ Erin N. Oates, Maureen Cluskey*, Kevin Randall*, Bradley University
Abstract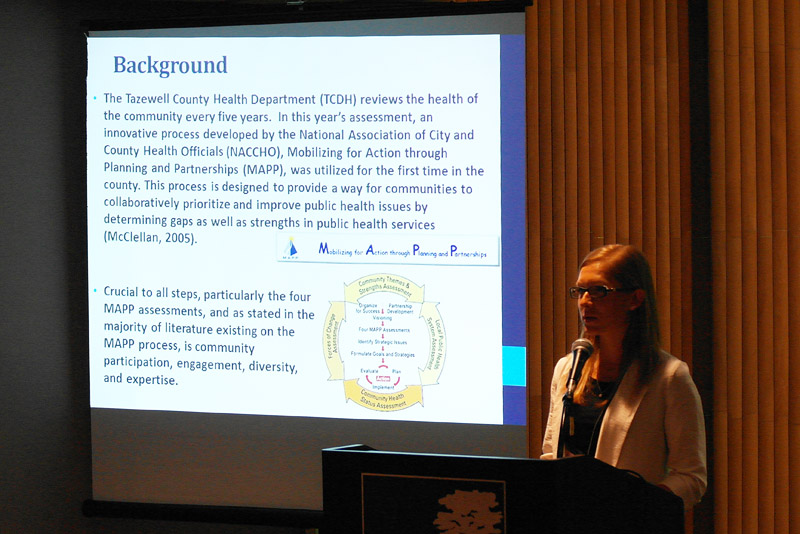 Erin Oates of Bradley University presents her research at Conclave (2012)
The Mobilizing for Action through Planning and Partnerships (MAPP) process, provides a way for communities to collaboratively prioritize and improve public health issues by determining gaps as well as strengths in public health services (McClellan, 2005). Results from the four assessments in step three of MAPP identify quality of life issues, efficiency of current services, observation of community health status, as well as forces of technology, laws, and other ever-developing facets that may affect how public health systems function ("National Association of City and County Health Officials," 2012). To date no studies have been found investigating the MAPP process relative to which factors citizens perceive most important to quality of life within a community. Thus, as a research question, we investigated the most important features of a healthy community listed by residents of Tazewell County, then used the quality of life questions to predict a multi-item outcome applying hierarchical regression analysis. The results of this research found that when the Tazewell Public Health Department is seeking to implement positive change in the community they should aim to focus on living in a community that (a) has a strong overall quality of life, (b) is a good place to grow old, (c) has clean air and water, (d) has an active sense that citizens can make the community a better place individually and corporately, and (e) has pride in shared accomplishments.
Read more: kon.org/urc/v11/oates.html
~ Kaitlyn Sippel, California University of Pennsylvania
Abstract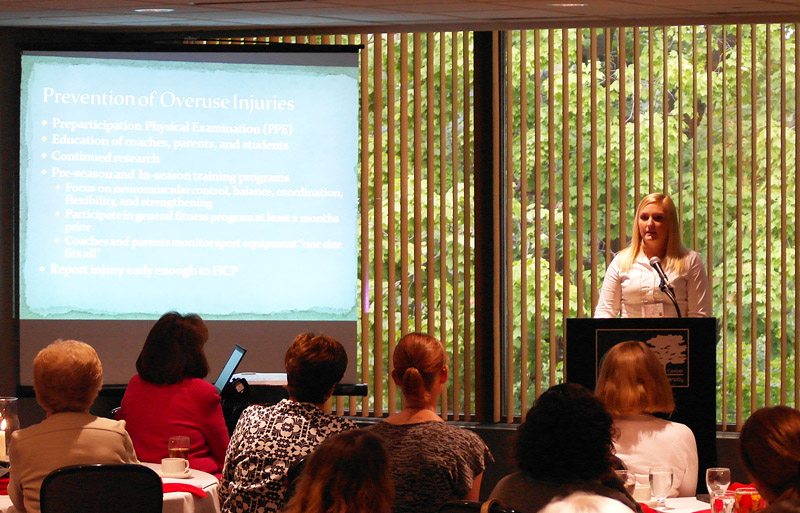 Kaitlyn Sippel presenting her research at Conclave (2012)
Today, children do not participate in interscholastic sports alone; they are also members of club teams and travel teams outside of interscholastic play that are year round. Thus, the body is not allowed to fully rest before continuing to the next sport season. Overuse injuries can affect multiple parts of a young athletes' body including the physis' and the tendons. Because these overuse injuries affect multiple parts of the body, there are different ways to treat and prevent these injuries. An overview of the most common overuse injuries is presented with the most reciprocated ways to prevent each injury, therefore the purpose of this literature review is to investigate the current preventative measures and treatments for pediatric and adolescent overuse injuries.
Read more: kon.org/urc/v12/sippel.html