Mentoring Stories
When we tell and listen to stories . . . Our capacity to see options, to visualize possibilities, to imagine[,] expands and we are somehow more alive.
~ Michael Parent
If you are a Kappa Omicron Nu member and have been involved in undergraduate research as a mentor or mentee, we would like to share highlights from your mentoring journey on the Mentoring Stories' section of the Undergraduate Research Mentoring Minisite sponsored by the organization. To participate, read more here.
Ashley Frazier - University of Maryland, Eastern Shore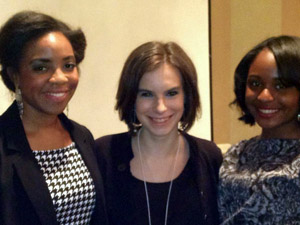 Chanal Carlise, Ashley Frazier, and Sarah Rybczynski
are shown together at ScholarCon 2014 in Orlando, Florida.
I became interested in the undergraduate research mentoring program and sought guidance for an area of focus after sitting in on one of the undergraduate research/service learning program meetings held by the Human Ecology Department at my university.
My goals related to the bullying awareness service learning project I was involved with included: (1) implementing creative and engaging activities for the children at the afterschool program where I did my service learning project; (2) minimizing put downs within the classroom setting among the children at the afterschool program; (3) raising bullying awareness within the afterschool program; and (4) creating a bullying awareness documentary.
Working with my mentor, Dr. Bridgett Clinton-Scott, has been beneficial and rewarding. She made sure that I had what I needed when I specifically needed it in order for my service learning project to run effectively.
Sarah Rybczynski - University of Maryland, Eastern Shore
My mentoring relationship with Dr. Clinton-Scott began at the end of my freshman year when I was first approached about becoming a part of the undergraduate research program and invited to complete a service learning project.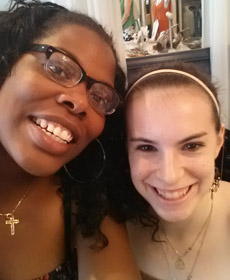 Dr. Clinton-Scott and Sarah Rybczynski
Working with Dr. Clinton-Scott has been great! I am so happy with my decision to ask her to be my mentor. She was always willing to meet to discuss the project and didn't mind me popping in to ask questions.
We each contributed different things to make our research experience a successful one. Dr. Clinton-Scott contributed her time and many resources to this project. She frequently made herself available to me. She understood that I had a crazy schedule and was willing to work with me to make sure I was able to complete everything. I contributed my time. There were many evenings, weekends, and breaks spent completing each of the tasks related to my project.
I have had a great experience working with Dr. Clinton and I feel as though it will help me have a more positive outlook on future relationships!
Daniesha Crews - University of Maryland, Eastern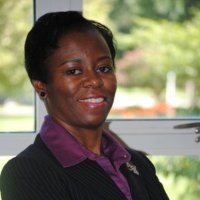 Dr. Lombuso Khoza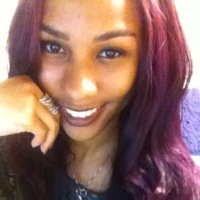 Daniesha Crews
Mentoring, to me, means creating a genuine relationship with someone to help them better themselves. Mentoring means giving honest feedback, sharing life experiences, and encouraging others to achieve their goals. Mentoring involves creating personal connections that are honest, open, and beneficial. Mentoring means coaching personal and professional development. Mentoring involves assisting shaping someone into the type of person they want to be.
Mentoring involves giving valuable time to help someone else. Working with my mentor, Dr. Khoza, has truly been a life-changing experience. Although I knew her professionally prior to my formal mentoring experiences with her, it wasn't until I began my undergraduate service learning project that I began to know her personally. Throughout the course of my project, Dr. Khoza was a great support system. She was very committed to my personal and professional growth.
My mentor and I have both made contributions to make my service learning experience a successful one: I have contributed the diligent and hardworking attitude while following through with my commitment to the project and my mentor provided me with multiple resources and wisdom including devoting to personally driving me to the location of my service project. Both of us have contributed to the success of my service learning project by effectively communicating and brainstorming ideas.
My relationship with Dr. Khoza will definitely impact my future relationships in a positive way. I am confident that I will be able to portray the same qualities and characteristics of my previous mentoring experience in my future experiences with others.